COMIC DRAMA; 1hr 11min
STARRING: Timothy Spall, Kristin Scott Thomas, Patricia Clarkson, Emily Mortimer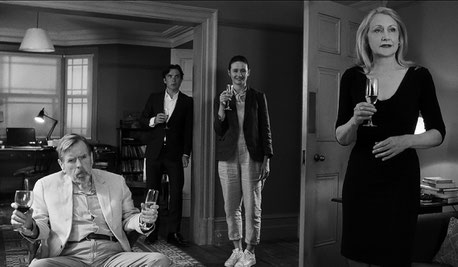 Where's the party? From left, Spall, Murphy, Mortimer and Clarkson. 
You know you're in for it with writer-director Sally Potter's trenchant character slayer when the opening shot is of a frantic Scott Thomas brandishing a gun. Flash back to the beginning of the night and newly elected shadow health minister Janet (Scott Thomas) is on top of the world and throwing a celebration shindig at her London home. In startling contrast, Janet's wine-sodden husband, Bill (a haggard Spall, last seen looking a whole lot healthier in Finding Your Feet), is so depressed he can barely speak. And when he does, you'll wish he hadn't.
Janet pushes gamely on after her nearest and dearest arrive, and what a sorry lot they are, as well. Her American bestie, April (Clarkson, dourly funny), is a vinegar-pickled cynic who despises her significant other, Gottfried (Bruno Ganz), with a vengeance. Coked-up banker Tom (Cillian Murphy) is just about out of his mind. Jinny (Mortimer) is expecting "Petri-dish" triplets with her older girlfriend, Martha (Cherry Jones), and can't stop throwing up. Meanwhile, queen-of-the-scene Janet has a secret lover.
Sharply framed by Potter (Orlando) in unflattering black-and-white, the train wrecks collide in a blaze of scintillating dialogue and dirty secrets that clock in at a trim 71 minutes while covering a vast tract of (very bad) behavioural ground. Potter's pacing never feels rushed but it never relents, either, as the crack ensemble teeter-totters between wicked black humour and straight-up black. Like an archaeological dig, their ridiculous get-together probes and exposes until no aberrant truth is left untouched.