COMIC DRAMA; 1hr 41min
STARRING: Imelda Staunton, Celia Imrie, Timothy Spall, Joanna Lumley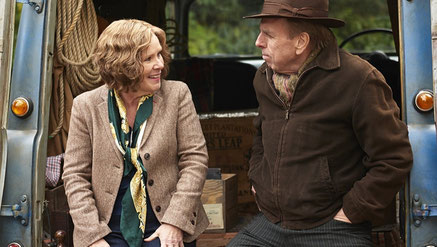 Second act: Imelda Staunton and Timothy Spall
Pity poor "Lady" Sandra Abbott (Staunton), kicked to the curb by her cheating spouse in their so-called golden years! Unmoored and distraught, Sandra trades her posh Surrey marital digs for her sister Bif's cluttered London flat, where she has very little desire to be.
Unlike Sandra, who is snobbish and prickly, sunny Bif (Imrie) is all about social causes and doing her own, free-spirited thing. The estranged sisters haven't seen each other in 10 years, and at first their reunion doesn't go smoothly: Sandra is uppity and Bif calls her on it. Ah, but then—and in a charming British character study with a huge heart and a groundswell of optimism, there's bound to be a then—Bif takes Sandra to her dance class.
The classes are a blast. How could they fail to be with Timothy Spall and Joanna Lumley in the sprightly line-up as, respectively, a pot-smoking love interest for Sandra and a five-times divorcee? ("[My last marriage] broke down for religious reasons," Lumley says tartly, as only she can. "He thought he was God. I didn't.") But director Richard Loncraine (Wimbledon) and his sterling, high-stepping cast are equally at home with their softer sides as Sandra navigates a new beginning. And that's exactly as it should be. No-one reaches 60 without light and shade.