COMIC DRAMA; 1hr 42min (French with subtitles)
STARRING: Nadia Tereszkiewicz, Rebecca Marder, Isabelle Huppert, Fabrice Luchini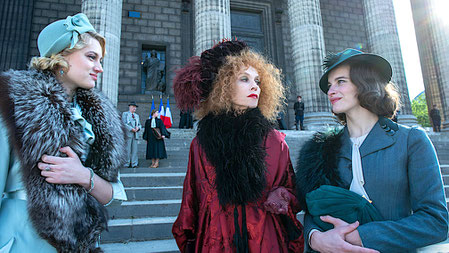 Hell's belles: from left, Tereszkiewicz, Huppert and Marder
The 1930s Paris of Swimming Pool writer-director François Ozon's fizzy confection has the studied aura of a Hollywood golden oldie and plays its loaded hand for every drop of melodrama. There's more than enough of that going on for cash-strapped, out-of-work actress Madeleine (Tereszkiewicz) and her flatmate, best friend and equally unemployed lawyer, Pauline (Marder). Facing eviction from their modest apartment and up for just about anything, the enterprising duo spot a major cash-in shot after Madeleine is wrongly suspected by a dimwit judge (Luchini) of shooting a handsy theatre producer (Jean-Christophe Bouvet as Montferrand) in — oh, the French — a crime of passion.
With Pauline as her lawyer and unofficial scriptwriter, Madeleine is a media sensation at her trial, a model of empowerment and a mockery of logic on which Ozon and his vital ensemble go to town. By the time she is acquitted on the grounds of self-defence, the accused shooter is a bona fide leading lady, with a besotted fiancé (Edouard Sulpice) and her pick of acting offers, while Pauline is fielding clients right and left. But every reckless scheme comes equipped with risks. Entrez flame-haired siren (and Montferrand's actual killer) Odette Chaumette (Huppert)…
The cast is on a frothy roll with their zappy dialogue and cat-mouse manoeuvres, adapted from Georges Berr and Louis Verneuil's 1934 stage play Mon Crime. But nobody owns their screen time like a haughty Huppert, tearing through her mile-a-minute star turns with a diva's narcissistic disdain. Not to condone the spoils of crime, but La Chaumette gives murder a makeover.