DRAMA, 2hr 3min (French with subtitles)
STARRING: Kayije Kagame, Guslagie Malanda, Xavier Maly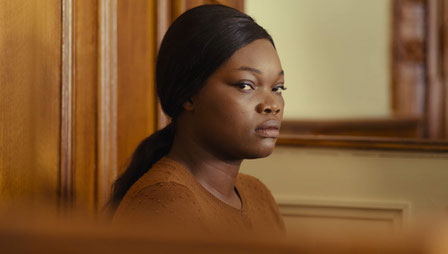 In a courtroom in Saint-Omer in northern France, Senegalese student Laurence Coly (Malanda) is on trial for the murder of her 15-month-old daughter, Elise, whom she left on a beach at night to drown. Laurence does not dispute her actions. ("It would make life easier," she says, with no discernible emotion.) Her issue is with her psychological responsibility at the time. In pleading not guilty, she is hoping that the trial will explain her to herself.
Also in attendance for research purposes is novelist and literature professor Rama (Kagame), watching closely as the subdued Laurence paints a condemning picture of her controlling family history and her dismissive, older, married partner, Luc (Maly). When a fragile-seeming Luc takes the stand, however, he describes Laurence as jealous and hot-tempered while emphasising his love for the baby that Laurence claims he categorically did not want. Which of them to believe? Either, neither, or both?
On day two of the trial, Laurence's testimony skews into the inexplicable. She references sorcery, claiming to have consulted clairvoyants (who don't recall her phone calls, of which in any case there is no record), and to have spiralled into an isolated depression during her pregnancy. Rama — no ray of sunshine herself in the hands of fiercely realised Kagame, and growing darker by the day — is sharply reminded of her own, emotionally distant mother.
Director and co-writer Alice Diop's finely crafted case of truth as perception is based on an actual 2016 trial attended by the documentarian. In this, her first fictionalised film, Diop leaves unanswered the question of Laurence's mental state on the night of Elise's death and, with it, the fundamental concern of whether, in the final analysis, it matters why people do terrible things or purely that they do them. Whatever the motive that triggers a violent crime, ambiguity is sometimes its only explanation.