ROMANTIC COMEDY; 1hr 40min (French with subtitles)
STARRING: Louis Garrel, Noémie Merlant, Roschdy Zen, Anouk Grinberg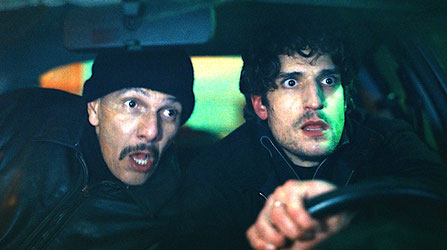 Oh non! from left, Zen and Garrel
Sylvie and Michel (Grinberg and Zen) are mad about each other and have just tied the knot to confirm it, about which Sylvie's judgmental son, Abel (director and co-writer Garrel), is less than ecstatic. Not only is Michel serving a five-year sentence for robbery, but 60-year-old Sylvie, who runs acting classes for prisoners and relishes the drama, is an eternal optimist. And while Michel seems devoted and kind, a distrustful Abel, still raw from the death of his wife, remains unconvinced.
With his upbeat bestie, Clémence (Merlant), as a hit-and-miss accomplice, Abel makes it his stickybeaking business to spy on Michel, essentially searching for what he doesn't want to find, but naturellement will, along with a mare's nest of consequences. Meanwhile, Sylvie and Michel have opened the planet's prettiest florist shop and Sylvie has never been happier. Michel's plan, such as it is, would seem to be to keep her that way, no matter what skulduggery his moves might entail.
The screenplay from Garrel, Tanguy Viel and Naïla Guiguet is a charmer from first caprice to last, but no matter how ingenious, plot twists alone won't sell a story if its characters aren't worth investing in. For the loops and bounds of text and subtext to click, neither Garrel nor his energised cast can afford any missteps. Luckily for them and us, everyone has strapped on their dancing shoes. Their commitment at the coal face of crazy is a serio-comic balance that blends a zesty souffle with the sweetness of an off-centre love story.