DRAMA; 1hr 41min
STARRING: Paul Mescal, Frankie Corio, Celia Rowlson-Hall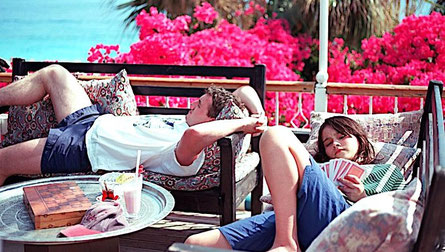 Shades of blue: Mescal and Corio
Thirty-year-old Calum Paterson (Normal People 's Mescal) and his 11-year-old daughter, Sophie (guileless newcomer Corio), are on vacation at a hotel in Turkey, soaking up sunshine and together time. 'What could be more innocent?' you think through twinges of foreboding, watching the two of them unwind. Sophie lives with her mother in Edinburgh, so this interlude is special. But there is no pressure attached to the lyrical flow of first-time writer-director Charlotte Wells's episodic beats — just the ease of being free of the everyday. The sole hints of trouble to come are the frenetic pulse of what appears to be a club where Calum is dancing, and to which Wells strategically flashes, and glimpses of Calum's melancholia in Turkey, which he takes pains to conceal from the daughter he strives to protect.
Calum is a caring and mindful father, his primary concern the wellbeing of the daughter he loves. "Be whoever you want to be," he tells her. "You have the time." On the cusp of the experiences that time will bring, Sophie is a watcher, taking everything in and documenting it all on a home-video camera.
When Sophie is an adult (played by Rowlson-Hall), the camera's herky-jerky holiday footage will be her portal to the mystery of an anguish from which her father was unable to escape: toward the end of their stay in Turkey, Calum's summery guise noticeably darkens, hinting at a well of torment whose waters threaten to engulf him.