DRAMA; 1hr 57min
STARRING: Joel Edgerton, Sean Harris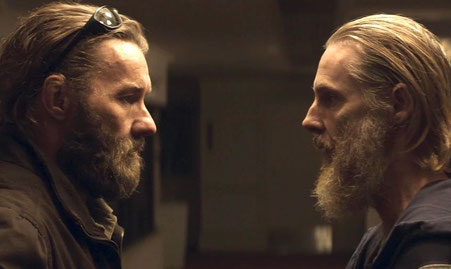 Mirror image: from left, Edgerton and Harris
On any road to nowhere, every refuge is a possible trap. Henry (Harris, in full reptilian form) is aimless and unwell with a shady past he would prefer to put behind him. His latest, seemingly randomly acquired, partner-in-crime, Mark (Edgerton), appears to have all the transformative answers that Henry seeks. Mark, for whom the past happens to be also ever-present, is a street -savvy and fiercely loyal guide to the underworld business of drugs and guns in which Henry has been promised a key role. His terse commentary on the reach of the organisation calling the shots promises big things for its latest recruit, who is thrilled to be included.
In fact, theirs is a grungy existence, eked out on lonely West Australian roads and in rented rooms. Henry couldn't care less, loser that he is. He'd be a lot less thrilled to know that every tasty morsel he is being fed is a lie: Mark is an undercover detective investigating the 2002 abduction and murder of a little boy, of which Henry is suspected. Compounding its thrumming sense of intent, this grubby web of double dealing from writer-director Thomas Wright is based on a true story originally covered by Kate Kyriacou in her 2015 book The Sting: The Undercover Operation That Caught Daniel Morcombe's Killer.
Undercover police work is dangerous on multiple levels. What Wright and Edgerton capture here, insect under glass–style, is the grind of Mark's isolation and the consequent exhaustion that weighs him down. The backstage police work has all the rigour you'd expect. But the front line burden of attachment to the enemy goes well beyond the can do scope of any official brief.