COMIC DRAMA; 1hr 54min
STARRING: Laura Linney, Philip Seymour Hoffman, Philip Bosco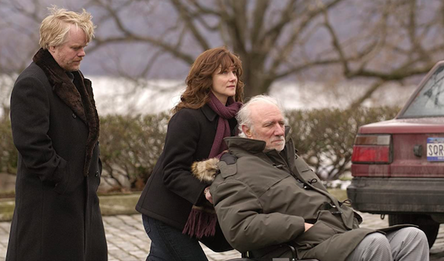 Wheelie good: from left, Hoffman, Linney and Bosco
With wry and clear-eyed honesty, writer-director Tamara Jenkins's pitch-perfect family drama wrings inky humour from the uncomfortable condition of old age. The instinctive Linney, always up for a de-glam, and a careworn, scungily bearded Hoffman are a copybook match as Savage sibs Wendy and Jon, roused from their drably one-track lives by the ugly and confronting descent into dementia of their irascible father, Lenny (Bosco).
Middle-aged, single and heavily self-involved, aspiring playwright Wendy and college professor Jon are not close to their autocratic dad, and their fragmented adult relationships reflect that. The stultifying, sausage-machine reality of a Buffalo, New York, nursing home is alien ground for the emotionally unequipped duo. They deal with their father's downslide as best they can, and by association, with the limitations of who they have become.
Jenkins (The Slums of Beverly Hills) makes no major or obvious leaps; her empathetic screenplay has its feet anchored firmly on the ground. But its quietly hard-won victories are one of its greatest strengths.