ROMANTIC DRAMA; 1hr 38min
STARRING: Rachel Weisz, Tom Hiddleston, Simon Russell Beale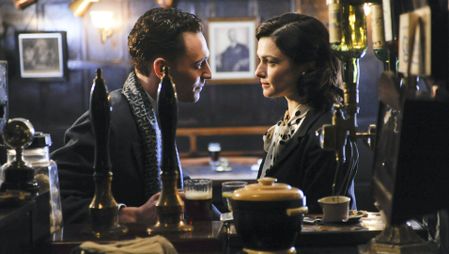 In deep: Hiddleston and Weisz
Love is armed, illicit and dangerous in writer-director Terence Davies's adaptation of Terence Rattigan's 1952 play. Armed because adultery is always a smoking gun, illicit because Lady Hester Collyer (Weisz) is married and dangerous because all-consuming passion tends to do just that.
Hester is lovely and impulsive. Her husband, judge Sir William Collyer (Beale), is older, straitlaced and rich. Hester's then-shocking love affair with young, devil-may-care ex-fighter pilot Freddie Page (Hiddleston) sweeps everything she has before it, leaving her suicidal in a shabby bedsit in 1950 London. Bewitched by the sensual spell of a wild and slippery card whose feelings for her are erratic at best, for Hester there is no going forward with him and no looking back.
Davies (The House of Mirth) bathes Hester's memories of the stormy relationship in the swoony music and plush light of hearts and flowers theatre. I might have been more moved by the timeless question of whether whirlwind romance is worth the flameout if Freddie and William had evolved into multidimensional aliveness. Still, I did feel for Hester, transported and broken by a mistaken belief.