DRAMA; 1hr 48min
STARRING: Dean Imperial, Babe Howard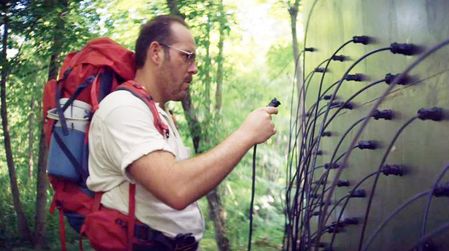 The spidery reach of big tech prints money for its key players, of which Ray Tincelli (Imperial) will never be one. A fleshy Queens delivery man with a sickly younger brother (Howard) in an expensive clinic, he's an outlier on the playing field of internet domination — or any other playing field for that matter. But Ray is a striver and when the opportunity knocks to lay cables for a company with global-domination designs, he jumps at its promise of juicy pay cheques.
This is unfortunate since the job is a scam and a drag, involving the traipsing of the cabler through unforgiving forests with a nagging corporate device, a cable winder on wheels and a large backpack for company. It's patently a gig for the crafty and the fit, but off Ray trudges anyway, hitting the CABLR trail in the Allegheny Mountains for a big-talking outfit called Quantum, which, where its worker bees are concerned, is all hat and precious little ranch.
Dogged by a drone, outclassed by fellow cablers who know more about what they're doing than he does and chased by robots that look like the love children of a giant crab and a pool cleaner and whose sole purpose is to haul cables faster than their human competition, Ray must slog his way between the massive metal cubes into which the cables are plugged for the supposed benefit of humankind. It's as much fun as boot camp — and that's before Ray suspects that his dodgily acquired trail name of Lapsis Beeftech (yep) comes with a snarl of strings attached.
Film-maker Noah Hutton's low-fi sci-fi feature first is a caustic ride to the dark side of industrial malfeasance — always a trip to cheer for. His takedown of corporate cunning won't make headlines in the messianic age of Google and Facebook but the rise of his machines is bracingly snarky and apt all the same with its spare performances and pall of gloom. So Like, already. Share!