DRAMA; 1hr 45min (French with subtitles)
STARRING: Fabrice Luchini, Ernst Umhauer, Kristin Scott Thomas, Emmanuelle Seigner, Denis Ménochet, Bastien Ughetto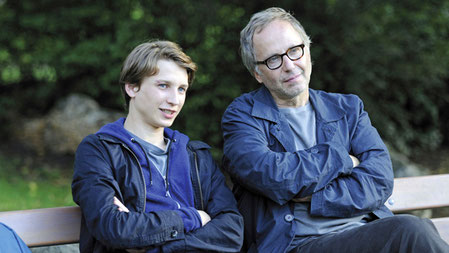 Fact or fiction: from left, Umhauer and Luchini
To write is to lay yourself on the line, even if readers are disturbed by what they see. For frustrated high-school literature teacher Germain (Potiche's Luchini), a student's gift becomes a two-edged sword. Sixteen-year-old Claude (Umhauer) is astute and observant, his fluent way with words underscored by the needling contempt of the outsider. Claude's incrementally disturbing subject matter is the household of fellow student Rapha (Ughetto) and Rapha's caring, attractive parents (Seigner and Ménochet).
To Claude, whose background is fractured, Rapha's family life is an unattainable ideal. While tutoring Rapha in math, he insinuates his discreet way into the inner sanctum, with seismic fallout. The initially disapproving Germain and his elegant, art-gallery manager wife (Scott Thomas) are helplessly intrigued. How much of what Claude describes is actually happening ? And how hazardous is Germain's growing involvement?
Director François Ozon (Potiche again) has adapted his absorbing and well-acted teaser from a play, but its cerebral riddles never seem stagey. Part playful psychodrama, part surreal manipulation, the mischievous twisting of chimerical truths is wholly impossible to predict.