DRAMA; 1hr 27min
STARRING: Nathan Phillips, Angourie Rice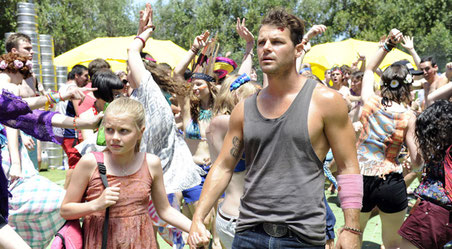 Party downer: Rice and Phillips
It's the end of the world and it ain't pretty as a desolate Perth, Western Australia, braces for a meteorite firestorm in the tough and graphic countdown of These Final Hours. Strangers James and Rose (a high-powered Phillips and Rice) aren't an obvious equation in all this: having bailed on his pregnant lover (Jessica De Gouw), James is all about partying hearty to numb the pain, while Rose, being a kid and a pragmatist, is chiefly concerned with finding her father.
James takes Rose with him to a what-the-hell bacchanal because he can't, in all conscience, leave her with the thugs who've grabbed her. Not that the party — an orgy on steroids with a guest list of wack jobs, James's official, hysterical girlfriend (Kathryn Beck) included — is exactly crèche material. Leave it to Armageddon to unhinge just about everyone. For James, however, it will become a literal baptism of fire.
Writer-director Zak Hilditch and cinematographer Bonnie Elliott have lit the ill-starred city as though through a bushfire haze, draining it of vibrant life. It's an evocative canvas for an unthinkable journey of unchartered beginnings and hard-hitting, pitiless ends.