DRAMA; 2hr 3min
STARRING: Alicia Vikander, Kit Harington, Taron Egerton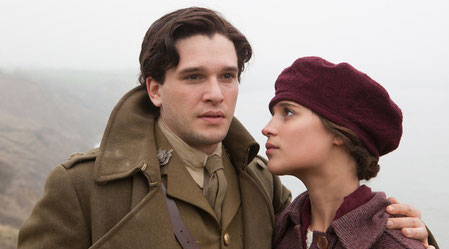 Soulmates: Harington and Vikander
In 1918, as the ecstatic Allies ring in Armistice Day, 24-year-old Vera Brittain (Vikander) is alienated and shaken, casting in her mind to the lifetime of four years before, when her fiery self butted heads with her father (Dominic West) over her burning ambition to study at Oxford.
Director James Kent and cinematographer Rob Hardy cloak the Brittain family's Buxton home in a mellow haze, obliterated — along with Vera's studies and her sweet, fledgling relationship with fellow aspiring writer Roland Leighton (Harington) — by the outbreak of World War I. Roland and Vera's beloved brother Edward (Kingsman 's Egerton) sign up. Edward's poor-sighted best friend Victor (Colin Morgan) is eventually drafted.
With Roland at the Front, Vera feels compelled to act. When she leaves Oxford to become a nurse, caring for dying German soldiers will shift her consciousness forever. Based on Brittain's iconic 1933 memoir, Testament of Youth is one woman's war, fought essentially alone with no fanfare or rosy finale. Swedish actress Vikander (A Royal Affair) has a wordless affinity with the torment of sacrifice and a fierce connectedness to Vera's wounded progression — from pitch-black, haunted night to a hard-won perspective of peace.