HORROR; 1hr 35min
STARRING: Anton Yelchin, Imogen Poots, Patrick Stewart, Callum Turner, Alia Shawkat, Joe Cole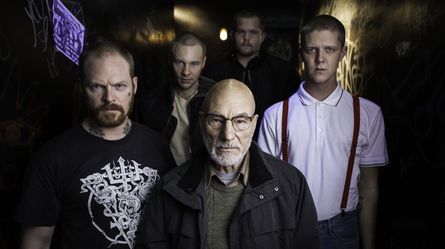 Stewart (centre, with goons) takes a turn towards the dark side,
Life on the road is rugged for low-rung punk band The Ain't Rights even before they hit the skids in the worst possible way. Writer-director Jeremy Saulnier's Green Room has the rawboned texture of a fly-on-wall doco at first: as Pat (Yelchin), Tiger (Turner), Sam (Shawkat) and Reece (Cole) sleep rough and play bad gigs for peanuts, they're generic kids living their dream. That detours into purgatory when The Ain'ts witness the aftermath of a murder in a backwoods Oregon rathole presided over by team leader Darcy (a glassily calm Stewart) and manned by neo-Nazis with the combined warmth of a cyborg. Cornered in the green room, the band, with ring-in Amber (Best Performance and Worst Hair awards to Poots), fight the barbaric fight of, and for, their lives.
Since shoestring horror and happy-ever-afters are fated never to bed down, Saulnier's priority is to oil his slipway with mandatory mood lighting and instrumentals, gouts of ferocity and — nice touch — a pitbull in Cujo mode. The cast do their primal bit, as well, segueing obligingly from terror to survivalist resolve. Meanwhile, Stewart keeps his statesmanlike cool. He's the captain of this sinking ship until its miserable end.