DRAMA; M, 1hr 34min
STARRING: Günes Sensoy, Doga Zeynep Doguslu, Tugba Sunguroglu, Elit Iscan, Ilayda Akdogan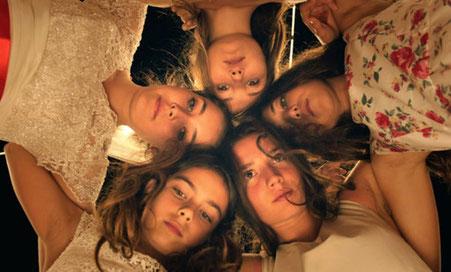 Lale and her sisters: Sensoy (top centre)
Before "everything turned to shit," as narrator and youngest sister Lale ("La-lay," a feisty Sensoy) pithily puts it, she and her four sibs are having a blast at a rural beach in northern Turkey. In a shimmer of innocence, they splash and shriek in the shallows while still in their school uniforms, climbing on boys' shoulders to tussle with each other.
They'll pay for it. Condemned as whores, the girls, whose parents are dead, are imprisoned at home by their volatile uncle and resigned-to-it grandmother; schoolwork is replaced by lessons in the servile craft of domesticity. "The house," notes Lale, "became a wife factory." Not without a fight — the sisters are as skittish as the horse they collectively embody in director Deniz Gamze Ergüven's inflaming drama. But the patriarchy is stronger still, and one by one they're becoming its victims.
Ergüven's ominous cadence and claustrophobic intimacy have inevitably been compared to Sofia Coppola's The Virgin Suicides. But unlike in that 1999 film, there's hope here in the fearless Lale, whose refusal to conform is weapon and provocation. Even at the blackest ebb, she's an inextinguishable spark of light.