DRAMA, 1hr 55min (Korean with subtitles, English)
STARRING: Steven Yeun, Yeri Han, Alan S. Kim, Noel Kate Cho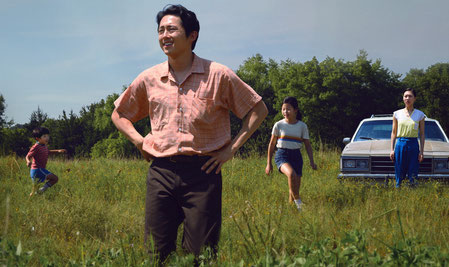 Dream on: Yeun (foreground) with (from left) Kim, Cho and Han
Jacob Yi (Yeun) is a dreamer; a Korean-immigrant chicken sexer (yep, it really is a thing) going all out in a country that lays claim to the biggest dream of all. His no-nonsense wife, Monica (Han), doesn't share Jacob's starry-eyed worldview — when he moves her and their two young children (Kim and Cho as David and Anne) from their base in 1980s California to a mobile home on a patch of land in the far-flung Ozarks, she's appalled, then outraged, then temporarily resigned. None of that makes any difference to Jacob, whose ideal of a working Korean vegetable farm is carved from his deepest sense of self.
But there are massive caveats. Seven-year old-David has a weak heart and the closest hospital is an hour's drive. Also, money is tight, chicken sexing not being the most lucrative line of work. Then Monica's mother (Yuh-jung Youn) touches down, fresh off the plane from Korea, adding kick to the kimchi with a gingery irreverence of which stroppy David doesn't approve. "She's not even a real grandma," he sniffs, but this grandma has atypical gifts to give.
Having drawn from his experience of growing up in Arkansas, writer-director Lee Isaac Chung's fondness for his scrappy, transplanted characters is the seam that threads their every intimate scene. Minari is a multipurpose Korean herb that grandma plants on the property. Robust and healing, it's an obvious metaphor for the strength of character it takes to chart a fresh path through adversity. Chung cares for his tested family, even if the soil in which they're planted doesn't deal in rainbows and pots of gold. But when every step forward is an unheralded struggle, even the quietest victories can be a gift.