DRAMA; 2hr 15min
STARRING: Kelvin Harrison Jr, Taylor Russell, Alexa Demie, Sterling K. Brown, Renée Elise Goldsberry, Lucas Hedges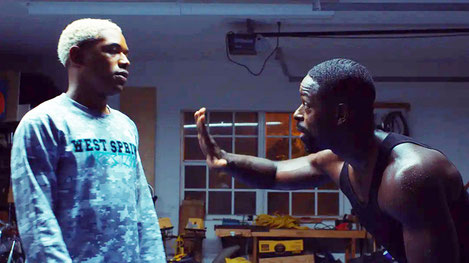 Father and Son: Harrison (left) and Brown
There's competitive and focused—and then there's Tyler Williams (Harrison). An 18-year-old South Florida high-school wrestler from a well-off family, Tyler pushes through injury and pain to continue competing, against the strong advice of his doctor. He's the American dream of achievement in self-destructive, pill-popping action. But what else is Tyler to do? His father, Ronald (Brown), is a hard-ass forged by a culture of self-reliance. His girlfriend, Alexis (Demie), is facing a crisis. Everywhere he turns, someone wants something from him, and what you feel, as the pressure builds in It Comes at Night writer-director Trey Edward Shults's tightly strung screenplay, is just how lonely 18 can be.
On the night when the façade falls apart, cinematographer Drew Daniels's camera prowls with Tyler through an unhinged hell. Something terrible is patently waiting to happen. When it does, the consequences are shattering. Now there is a shell-shocked reckoning to be faced, in which the emphasis shifts to Tyler's younger sister, Emily (Russell), and more tangentially, to his warring parents. Emily, at least, has a new, empathic boyfriend (Hedges) to help ease the weight she feels, but Ronald and Cathy (Goldsberry) have become estranged, a once-proud man humbled and his wife overwhelmed by her reproach.
In the aftermath of tragedy there can be no clear path out. Everyone in this splintered roadmap of sorrow has lost something they can never replace. All this is achingly sad, of course, leaving the characters in pretty much constant pain for acts two and three—which at 135 heavy-duty minutes all-up, starts to feel repetitive and oppressive. Kids rocking out in cars isn't exactly a mind-blower, even when scored by Trent Reznor and Atticus Ross, and frenetic, hand-held filming is a potential stomach-churner.
That said, the writing and direction, the urgency of the performances and Emily's closing sense of lightness going forward couldn't have been more charged. Who could argue with Ronald, counselling his stricken daughter in the emotional wreckage of their lives with the hard-earned wisdom that "All we have is now."