CRIME; 2hr 10min
STARRING: Daniel Craig, Chris Evans, Ana de Armas, Jamie Lee Curtis, Michael Shannon, Toni Collette, Don Johnson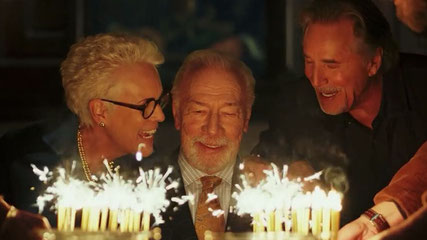 Happy birthday, dead Daddy: from left, Curtis, Plummer and Johnson
A fancy-pants American family and the grasping web it sets out to weave are the treacherous heart of Looper writer-director Rian Johnson's tricksy comedic riff on classic whodunits. After a birthday gathering of rellos and in-laws takes an incurable overnight turn, it seems every key member of the incompatible Thrombey clan could have been responsible for the sudden death at his heavily decorated home of mystery novelist and patriarch Harlan Thrombey (Christopher Plummer) on his 85th birthday. Not that any of his sons and heirs is remotely inclined to step up.
Harlan's no-nonsense eldest daughter, Linda Drysdale-Thrombey (Curtis), claims her father's slit throat is a suicide, about which the attending police officers (Lakeith Stanfield and Noah Segan) and anonymously enlisted private detective Benoit Blanc (a debonair Craig, taking his chances with a hammy Southern drawl) are wise to be far from convinced. As a series of flashbacks cunningly reveal, regardless of their Who Me protestations, Linda, her husband Richard (Don Johnson), Harlan's ineffectual youngest son Walt (Shannon) and widowed daughter-in-law Joni (Collette) are hatching a mare's nest of secrets. Only Linda and Richard's son Ransom (Evans) seems cheerily untouched by the melee, during which it's obvious that Harlan's perpetually flustered caregiver, Marta (de Armas), cared more for her late employer than any of his so-called kin.
With everybody busy hiding something, ignorance is half the bliss on this deceptive, multifaceted trip. The other half is the cleverly scripted scrambling of a crash-hot cast through an obstacle course of skulduggery. The solving of dastardly familial riddles, as ingenious as it was always guaranteed to be, has nothing on the firewall of hoops that the agile Mr Blanc must jump through to make his moment happen.