COMIC DRAMA; 1hr 45min
STARRING: Mia Wasikowska, Damon Herriman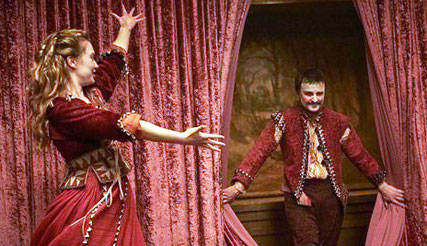 Puppetmaster: Wasikowska and Herriman
Punch and Judy is a 17th-century puppet show featuring an insufferable squabbling couple, in which, along with a rotating cast of luckless drop-ins, wife Judy repeatedly and literally cops the short end of the stick at the hands of her almost certainly psychotic husband, Punch. In her first feature film, Australian writer-director Mirrah Foulkes has niftily parlayed slapstick puppetry into an unruly period piece, with Once Upon a Time in Hollywood's Herriman letting fly with paltry swagger as the puppeteer bully boy and Tracks' Wasikowska ticking mesmerically to a roaring boil as his immoderately put-upon wife.
Punch is your basic abusive drunk, brought down professionally by swilling the hard stuff, yet still with serious tickets on his inadequate self. Talented, unassuming Judy is the ill-starred mother of his baby and his all-purpose doormat. They live in the miserable, landlocked village of Seaside, where stoning of petty criminals is a family day out and getting wasted at ye olde boozer is a main event.
The local yokels, a whisker away from feeble-minded and out of control, revere Punch as a master of the puppetry art. Their adulation feeds his swollen ego but does nothing to curb his drinking or to sweeten his temper when blind. Invariably, he goes too far, even for lawless Seaside's lowly standards.
Rescued from a shallow grave and nursed back to health by a band of outlanders, a furious Judy makes it her mission to reclaim her life. She's a blazing, transcendent victim, for whom the iron rod of revenge is the ultimate taking of ownership. Foulkes's tall tale may play like a backwoods Brothers Grimm, but its witch's brew of betrayal and payback is a bitter, timeless blend.