DRAMA; 2hr
STARRING: Adam Driver, Annette Bening, Jon Hamm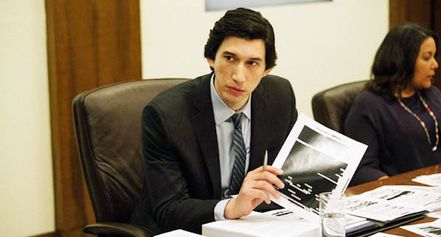 The ripple effect of the Sept. 11, 2001, terrorist attacks on the US cuts deep in filmmaker Scott Z. Burns's nimble distillation of dirty CIA prisoner-interrogation tactics. Taking an even tone with a flood of sickening facts, Burns funnels 6.3 million pages of damning CIA data through the central perspective of Senate Select Committee investigator Daniel J. Jones (Marriage Story's Driver). Appointed in 2009 by his employer, crusading Democrat senator Dianne Feinstein (Bening), to investigate the Detention and Interrogation program established by the CIA post-9/11 for prospective terrorists, Jones has his mountain of work cut out for him. It's further not helpful that tapes of the interrogations have been erased—and where there's suppression, unjust cause will most likely be lurking.
Whitewashed by post-apocalyptic fear, the agency's "enhanced interrogation techniques" are spruiked by their front-liners as science-based but, as Daniel learns to his dismay, that pseudo-science is a big, bad joke. Filmed with furious exactitude, in a crowning irony, the torture menu of shackling, music-blasting, water-boarding, sleep deprivation, wall-slamming and mock burials is stunningly ineffective.
Daniel is a dog with a bone, diligent to a compulsive degree. Even so, his five years in the shadows of abuse are eating him up. And when the CIA is presented with his whopping, 7,000-page report, he finds himself in scalding water as assorted butt-coverers scramble to squash it.
Low acts in high places are a constantly recurring political theme, of which an intensive Driver and his practised co-stars make an acrid feast (Hamm pops in and out as comradely policy wonk Denis McDonough). When a prescient Senator Feinstein proclaims that "History will judge us … by our commitment to face an ugly truth," that enduring ugliness couldn't feel more relevant. Its overall cost to Daniel Jones is one question best left unanswered.