COMIC DRAMA; 1hr 49min
STARRING: Holliday Grainger, Alia Shawkat, Fra Free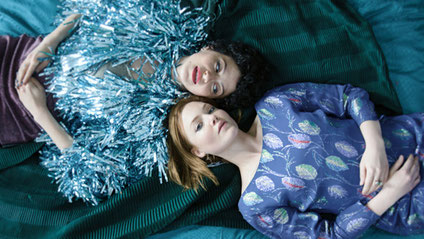 Dream time: Shawkat (left) and Grainger
"I always thought we're not defined by who we are, but by who we try to be." So says Jim (Free), supremely together pianist. Party girl Laura (Grainger) is falling for him while trying, sort of, to be a card-carrying writer. Her flatmate and best mate, barista Tyler (Shawcat), as close as Laura's shadow for the past roistering decade, is just trying to have the nonstop fun fun fun that in downtown Dublin is as handy as the nearest man, the tastiest bottle of booze and/or line of coke and the niftiest new pill. It's hardly a coincidence, then, that a decade is also the length of time that Laura has been tinkering with the first 10 pages of her novel. Jim, in contrast, is all about his creative work, which lately includes his new fiancée, Laura, on whom he aims to be the steadying influence Tyler is 100 per cent not.
"Why define yourself by this one relationship?" demands Tylerof Laura when she senses her fishy influence is waning. She has a point, but only up toa point: the perennial girls are nudging 30 and their shtick is beginning to look stale.
As directed by Sophie Hyde (52 Tuesdays) from Emma Jane Unsworth's screenplay of her 2014 novel, Animals' keen take on the clashing paradoxes of woman- and sister-hood is tender, awkward, confronting and illuminating, most potently when all at once. Laura and Tyler's combustible co-dependence, played with splashy panache by Grainger and Shawkat, deals as much with a transient age and stage as with what becomes of two hell-bent enablers for whom moving on is no longer a choice.