COMIC DRAMA; 1hr 42min
STARRING: Emma Thompson, Mindy Kaling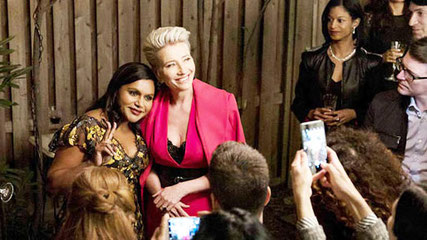 Camera-ready: Kaling (left) and Thompson
As chemical-plant supervisor turned TV tonight-show writer Molly Patel, Mindy Kaling is so toasty-warm and regular-girl relatable you instantly feel you've known her for years (which in a way you have, through her stints on The Office and The Mindy Project). That's one reason to barrack for Molly in the hot new job she's technically not qualified to do. The second is that her cosily established co-workers are a predictably hostile boys' club. The third is that the show itself—Tonight with Katherine Newbury—is a stale yawn whose frosty host (Thompson, blistering, wounded and all-round wonderful) is facing the chop. Hence the desperate measure of "diversity hire" Molly. And finally, Kaling wrote this thing, as well as lighting up its rooms.
As for Katherine, when not off duty with her understanding, infirm husband (John Lithgow), the woman is a force of nature in the worst possible way: a tsunami of icebergs with a touch-me-not attitude she needs to lose quick-smart to re-connect with the zeitgeist. She does this as she's destined to do from day one, since her evolution from clueless and supercilious to caring and sharing is the reason everyone is here for her.
Balancing light and shade takes insight and style. Kaling aces both in a Nisha Ganatra–directed screenplay that dovetails some deft one-liners with a grounding faith in self-belief. Watching Katherine and Molly fight for their footholds makes smart and classy viewing, not only because they each have so much riding on a positive outcome, but because they and everyone in their on-the-ball ensemble cast does what they do so well.