DRAMA; 1hr 25min
STARRING: Cory Michael Smith, Virginia Madsen, Michael Chiklis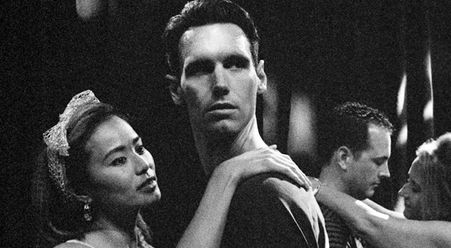 Last dance: Chung and Smith
Assuming you can go home again, the visit might not be the smoothest ride of your life. That sad concept resonates like the tolling of a funereal bell through writer-director Yen Tan's contemplative family study, set in the nightmare onset of AIDS. Watching Adrian Lester (Smith), who is gay and unable to bring himself to come out to his straitlaced folks, is a muted torment intensified by cinematographer Hutch Muselessmime's grainy, black-and-white film stock.
After three years working in New York, Adrian is back in Texas for Christmas, over-compensating with exxy gifts he can't afford. The audience knows this because his credit card is declined at a local grocery store. Seemingly having no idea of his situation, his hard-case father and nurturing mother swallow their eldest son's rosy version of events without question. (A promotion at his ad agency! Everything going swimmingly all round!) In truth, Adrian is ailing and drowning in plain sight, all but invisible to those he should be closest to. As portrayed by a restrained Smith, his clean-cut façade is camouflage as survival against a bristling dad of the "good old ass-whipping" school (Chiklis) and a pious mom who flinches at the use of Jesus as curse word (Madsen) .
But hold up a minute: Tan has a turnaround in store in a story whose baby steps are really leaps of understanding. Through opening up to a distanced childhood friend (Jamie Chung), a revelatory conversation with his father and a taped message of love and support that he leaves for his vulnerable younger brother (Aidan Langford), Adrian says his oblique goodbyes in a mosaic whose every broken piece is heroic.