COMIC DRAMA; 1hr 36min
STARRING: Charlize Theron, Mackenzie Davis, Ron Livingston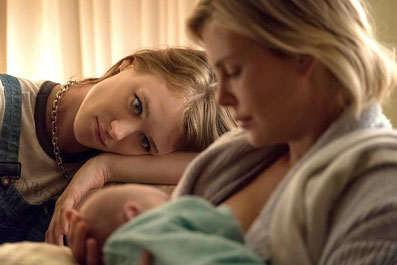 Night, mothers: Davis (left) and Theron
The particular genius of Charlize Theron is an onscreen relatability boosted by a total lack of vanity. That's quite some achievement, given her movie-starry features. But then, like the maternally beset Marlo whom she plays in director Jason Reitman and writer Diablo Cody's minutely constructed jewel, Theron is also a mother. She absolutely gets the core-level exhaustion of tending to little kids (Marlo has two: a girl and a needy, "quirky" boy) and newborn babies (of which there is one, and, boy oh boy, is she a nocturnal screamer).
In fact, Theron gets parenting so elementally that her fleshy, fractious, beaten-down Marlo is physically painful to watch. Marlo's preoccupied husband, Drew (Livingston), isn't a whole lot of help, either, which is why, although it goes against her self-sufficient grain, she is also sufficiently desperate to consider her brother's offer of a night nanny (Davis as Tully).
It's a lifesaving call: from the minute Tully steps inside Marlo's chaotic home, her sweetly homespun wisdom appears to know no bounds. "You're like a book of fun facts for unpopular fourth graders," Marlo tells her, and she's dead right, too: there is something other-worldly about her nanny's healing touch.
This is Theron's second teaming with Reitman and Cody (after 2011's kick-ass Young Adult), and the director and writer's third go-round post-2007's Juno. Tully is very much its own creation, but, like its predecessors, it zeros in on matters of the heart with a distinctive sureness of touch, a clear and level gaze and an intimate affinity with the absurd. In honouring the pressures and sacrifices of motherhood, and in the surprising poignancy of Marlo's final reckoning, Reitman and Cody salute the toughness of spirit it takes for an everyday person to push through the seemingly impossible.