ROMANTIC DRAMA; 1hr 46min (English and Korean with subtitles)
STARRING: Greta Lee, Teo Yoo, John Magaro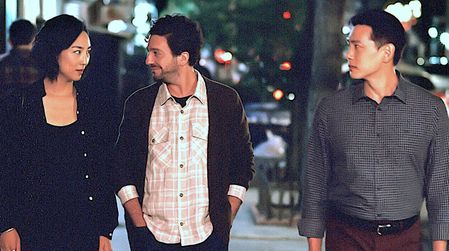 Forsaking all others: from left: Lee, Magaro and Yoo
As 12-year-olds in South Korea, Na Young (Seung-ah Moon) and Hae Sung (Seung-Min Yim ) are as close as schoolfriends can be. They likely would have stayed that way, too, if Na Young's family hadn't emigrated to Canada. Twelve years later, in 2012, Na Young, now Nora (Lee), is a New York City playwright with perfect hair, while Hae Sung (Yoo) is an engineering student who still lives with his folks in South Korea. Although their old spark is still glowing when the two reconnect via FaceTime, Nora sabotages the sweetly in-synch deal by opting out of it for the sake of her nascent career.
Seriously, girl? Apparently so. Leaving Hae Sung to dry his tears, Nora takes off to an artists' residency at which she meets her American future husband and fellow writer, Arthur (Magaro). After another 12 years have zipped by in a blink, as they're confoundingly prone to do, who should arrive in town but Hae Sung for a week-long vacation. And as his bittersweet visit gets underway, writer-director Celine Song's contemplative debut will get down to the business that concerns it: how present is our past and how random are the choices that have placed us where we find ourselves?
"This is where I'm supposed to be," Nora assures Arthur, who, while preternaturally tolerant, isn't feeling overly secure with his wife's childhood soulmate on the scene. Ah, but is this the only life that might have made Nora happy? With all the paths she could have taken, why this path in particular? Wrapping an unrealised love story in unanswerable questions, Song's graceful reflections on the caprices of fate is threaded with sorrow for lives unlived.