COMIC DRAMA; 1hr 36min
STARRING: Margaret Qualley, Christopher Abbott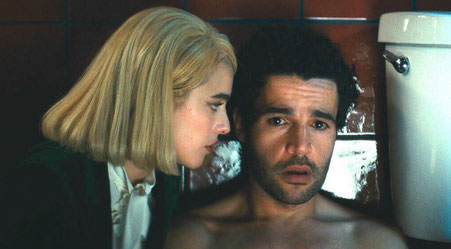 Altered state: Qualley and Abbott
Rebecca and Hal are not what they initially appear to be. Actually, scratch that: Rebecca (Once Upon a Time … in Hollywood's Qualley ) and Hal (Abbott, of TV's Catch-22 ) are the game-playing, uncomfortably intimate opposites of what they initially appear to be, which, in the opening minutes of director Zachary Wigon's strategic shiv to the ribs, is a well-heeled businessman and a sleekly efficient legal clerk gearing up for a meeting in a luxury hotel.
In reality, Rebecca is a dominatrix whose encounter with Hal has been scripted by him in mortifying detail. Not only has Hal been choreographing his sexual subjugation, he's also planning to bring its perversely comforting rituals to an end, being that he is, in fact, so well-heeled that his family's company owns 112 hotels and he's preparing to take its helm after his father's death. With his enhanced corporate status in mind, "I need," he helpfully explains, "to match up my insides with my outsides."
Easier said! In a field not noted for its soft touches, Rebecca hasn't survived by being one of them. "Your market cap is $185 million," is her matter-of-fact response. "I want what I'm worth relative to what you have." That would be a six-figure payout, and for once Hal isn't about to bend over.
For any two-handed battle-of-wits to fly, uncertainty is its crucial third player. As Wigon and screenwriter Micah Bloomberg fire a barrage of subversive curveballs, and Abbott and Qualley bat them out of the park with the fierce abandon of guerrilla warfare, the power struggle between two familiar strangers plays out as a stripping back of layers. Defences are shredded, piece by ragged piece, until only the fundamental truth remains.