DRAMA; 2hr 23min (Danish and Icelandic with subtitles)
STARRING: Elliott Crosset Hove, Ingvar Eggert Sigurðsson, Jacob Lohmann, Vic Carmen Sonne, Ida Mekkin Hlynsdóttir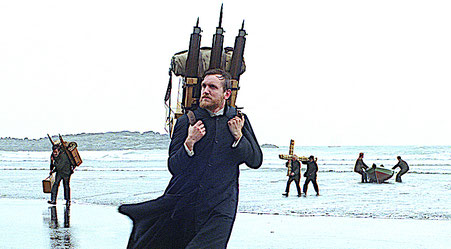 According to its opening title, writer-director Hlynur Pálmason's fictional story, about the limits of belief, was inspired by seven wet-plate photographs taken by a Danish priest and found in a wooden box on the southeast coast of Iceland. Those pictures, however, are also Pálmason's invention, their finicky production process yet another stumbling block for Lutheran priest Lucas (Crosset Hove) on his mission to Iceland to build a church while documenting its people on film.
Lucas has his leaps of faith cut out for him on the mountainous island, whose bone-seeping cold and torrential waters are vastly unforgiving. On top of that, his gnarly guide (Eggert Sigurðsson as Ragnar) speaks Icelandic, which the frustrated priest doesn't understand, and in the late 19th century, immediate communication with the outside world is impossible. An unready man could easily perish in these forsaken wilds, taking any previous certainties with him: as his punishing cross-country journey takes its toll, Lucas's twiggy resolve seems certain to snap. By the time the construction of the church is underway, he's wraithlike and barely able to speak.
Pálmason (A White, White Day) is a film-maker for whom deliberation is its own statement. Every contemplative image and encounter carries a weight of expectation. Lucas rallies, but for how long? What, if anything, will become of his bond with Anna (Carmen Sonne), the elder daughter (Mekkin Hlynsdottir is peppy younger sister Ida) of the forbidding man (Lohmann as Carl) in whose house he has convalesced? Is his growing antipathy to Ragnar too all-consuming to be borne? And finally, decisively, has he travelled to the world's end in the name of God only to lose himself? The single certainty, scrupulously captured through the seasons by cinematographer Maria von Hausswolff, is the endurance of a landscape whose indifferent beauty has always demanded so much.