COMIC DRAMA; 1hr 59min
STARRING: Jay Baruchel, Glenn Howerton, Matt Johnson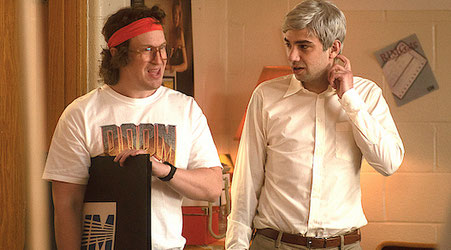 RIM shot: from left, Johnson and Baruchel
Pitch meetings don't come much worse than the 1996 debacle that kicks off director, co-writer and star Matt Johnson's nutty slice of tech history, based on Jacquie McNish and Sean Silcoff's 2015 nonfiction book: when best friends and Research In Motion (RIM) co-founders Mike Lazaridis (Baruchel) and Doug Fregin (Johnson) attempt to spruik their revolutionary "computer inside a phone" to jaundiced Canadian manufacturing exec Jim Balsillie (Howerton), he blows them off with the monumental rudeness of a natural-born bully.
That excruciating encounter escalates to full-blown absurdity after Jim parts company with his firm and partners up with the geek city that is RIM at work. And when he discovers that RIM is in a million-dollar hole with zero deals pending, the race to build a prototype cell phone is on. Ladies and gentlemen, say hello to the ground-breaking BlackBerry.
What follows is a cautionary accounting of the pitfalls of commerce, writ cartoonishly large in a disastrous marriage of genius concept and corporate greed. For Mike and Doug, the rot sets in with Jim's foiling — at the expense of RIM's mellow engineering culture — of a 2003 attempted hostile takeover. Even with network glitches now under control and business booming, the newly businesslike vibe doesn't sit well with Doug, to whom mellow is meat, potatoes and movie nights. Then, in 2007, along comes Steve Jobs and his iPhone…
Like any natural disaster, the mechanics of corporate implosion move with an anarchic velocity that engulfs every structure it touches. Once the No. 1 cell phone on the planet with a 45 per cent market share, the now-defunct BlackBerry fell victim to its own momentum. So while Johnson and Matthew Miller's screenplay is a chalk–cheese crack-up at the start, nobody is laughing when the nuts and bolts come undone.