COMEDY; 1hr 54min
STARRING: Margot Robbie, Ryan Gosling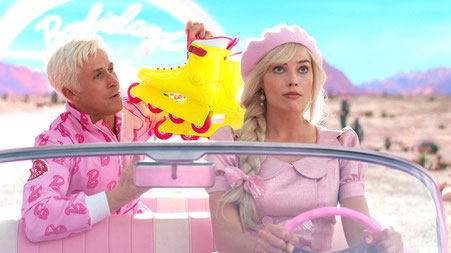 In the pink: Gosling and Robbie
Barbara Millicent "Barbie" Rogers, Mattel Inc's star doll, has been walking tall since 1959, with a billion-plus sales of her sleek blonde self and its multifaceted iterations. Her chicly accessorised life has been the flip side of nitty-gritty — that is, until now. The Barbie of Little Women writer-director Greta Gerwig's kaleidoscopic eye-popper, co-scripted with her husband, film-maker Noah Baumbach, is in for an awakening.
Day one is literally peachy in Barbieland. Every shiny morning is a plastic-perfect replica of the one before for smiley Stereotypical Barbie (Robbie, acing the image), her sisters in professional bliss (Issa Rae, Emma Mackey et al) and their coterie of sybaritic Kens. When Barbie acts up out of the blue, with inexplicably flat feet and sneaking thoughts of cellulite and death, she seeks advice from outcast, and victim of over-playing, Weird Barbie (Kate McKinnon). According to Weird Barbie, Stereotypical Barbie is being corrupted by whichever miserable individual is messing with her head.
The only fix is to track down her tormentor in the real world, to which Barbie dutifully tootles in her pink convertible with her quasi-male BF, Ken (Gosling, somehow mixing dead straight with high camp). Their destination is Los Angeles, where shades of grey are the norm, Will Ferrell is the Mattel CEO ('nuff said) and Barbie is forced to deal with a tumult of vulnerability. Fleeing that coop is no answer, either, for back in Barbieland, Ken and his clone squad (John Cena, Kingsley Ben-Adir and Co) are feeling their oats, with wildly disruptive results.
Gerwigland is a hectic pastel trip, production-designed to the nth degree by Sarah Greenwood. But armed as it is with a manifesto of enlightenment, Barbie is more than the sum of its pretty façades. It's serious women's business and a ridiculously gratifying reality check when the doll of the hour seizes her pivotal moment and takes ownership of herself.