DRAMA; 1hr 50min (French with subtitles)
STARRING: Riadh Belaïche, Loubna Adibar, Jean-Yves Berteloot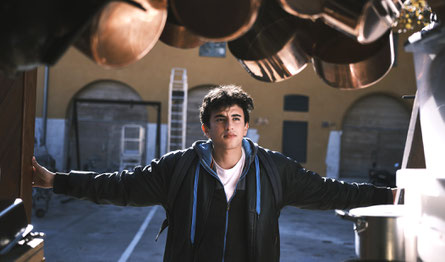 To master pastry chef Yazid (social-media influencer Belaïche, diving in), the stars have always been "a symbol of hope, where everything can be reborn." Even as a foster child in Epernay, France, when his constellations were far from aligned under the erratic stewardship of his flighty biological mother (Adibar), Yazid stole ingredients from a grocery store for a chocolate cake whose richness would hold in him lifelong thrall.
Given that director Sébastien Tulard's ambrosial debut is based on Yazid Ichemrahem's 2016 memoir, Un Rêve d'Enfant Etoilé, the pinnacle on which the frozen-dessert world champion ended up is no mystery. The question, explored by Tulard in a tangle of tenses, is how a boy from the backstreets managed to claw his way up there — although given Yazid's light-fingered grocery-store turn at the top, his arrival could almost have written itself.
Not only did he always dream big, but his single-mindedness blasted every obstacle in his path. Apprenticed in 2006 to the Parisian chef of an Aladdin's Cave restaurant (Berteloot as Massena), the teenage Yazid travels 180 kilometres each way from the boys' home in which he is living to get to and from work. Once there, nothing but the sublime will cut it: like chefs everywhere, Massena is no pique-nique in the temperament department. Yazid, for whom the word non is a foreign language, remains undeterred. The militaristic artistry of the kitchen is his proving ground, the alchemy of cooking marking his own transformation from misfit to emerging magician.
And about that magic: Oh my. A triumph of art and craft, Yazid's dainty desserts look almost too divine to eat. That their creator was once homeless, orbiting between the kitchen of a French Riviera luxury hotel and nights sleeping rough beneath the stars that continued to inspire him, is the paradox that underscores his defiantly ascendent life.