DRAMA; 1hr 44min (French with subtitles)
STARRING: Virginie Efira, Roschdy Zem, Chiara Mastroianni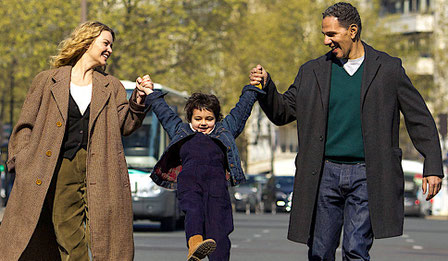 Upswing: from left, Efira, Ferreira-Goncalves and Zem
Forty-year-old schoolteacher Rachel (Benedetta 's Efira) is a wiz at the wearing of multiple hats. In the presumably typical day that spans the opening credits of writer-director Rebecca Zlotowski's relationship-savvy slice of life, Rachel teaches a film class, weighs in at a school policy meeting, spars with an ex and, after a session with her guitar group, feels the love with a low-key fellow player (The Innocent 's Zem as Ali).
She'll need that game face from hereon in: car designer Ali comes equipped with a four-year-old daughter (Callie Ferreira-Goncalves as Leila) and an ex-wife to go with her (Mastroianni as Alice). But, hey, Rachel is radiantly in love, and although she accepts in theory that other people's children are "not always easy," as Ali knowingly cautions her, navigating the slings and arrows of stepmotherhood is a whole other ball of stress. With a small child's gravitas, Leila seems accepting of the affectionate interloper at first. But as the novelty wears off and acceptance dips into resentment, Rachel, who also craves a child of her own against the imperative of a ticking clock, comes to understand that where Leila is concerned, she will always be "an extra."
Each cast member is a vital piece of Zlotowski's simpatico mosaic: Michael Zlotowski and Yamée Couture as Rachel's father and sister, Henri-Noël Tabary as a teacher who carries a torch for her, and Victor Lefebvre as an insecure student add warmth, texture and intention to the contours of her relatable world. Intention, however, has never been a guarantee of success: in the end, it will be the adults in Leila's world who struggle to shape its contours into a space they can all agree to inhabit.