COMEDY; 1hr 33min
STARRING: Nicholas Hoult, Nicolas Cage, Awkwafina, Ben Schwartz, Shohreh Aghdashloo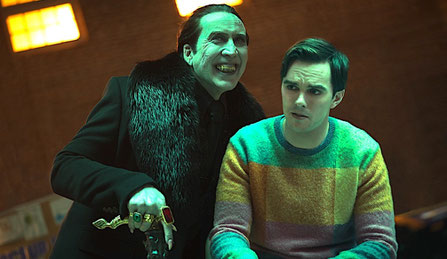 Out for blood: from left, Cage and Hoult
Fed up to his bug-encrusted back teeth with decades of servitude to master of nasty Count Dracula (Cage), Robert Montague Renfield (Hoult, resolutely keeping it real) has joined a 12-step support group in contemporary New Orleans. Although it specialises in the perils of co-dependency, it's safe to say that the Dependent Relationship Anonymous Addiction Group (DRAAG) has no idea what it's dealing with in the case of a lawyer turned vampire's immortal familiar, who recharges his super-powered batteries by guzzling on crawlies.
For starters, Dracula is a nightmare to work for, with a ravenous appetite for innocent victims and the bilious personality of a petty despot. In other news, fixated policewoman Rebecca Quincy (Awkwafina) is hell-bent on avenging her father's death. Her crusade sets the tinselly stage for a barrage of hyperbolic fight scenes, when Dracula, his disillusioned servant, a crime family (Aghdashloo is its den mother, Schwartz her bozo son) and Renfield's morose support group members cross paths.
The cartoon stoushes keep on coming, propped up by director Chris McKay with tottery plot points that don't matter a damn since bam and slam are where this screwball comes out to play. Kudos to the shenanigans of a Gothically embellished Cage, for whom the concept of too much is meat, drink and dessert. His calculated lunacy fits like a bloodied glove.