DRAMA; 2hr 3min (Arabic with subtitles)
STARRING: Lubna Azabal, Saleh Bakri, Ayoub Missioui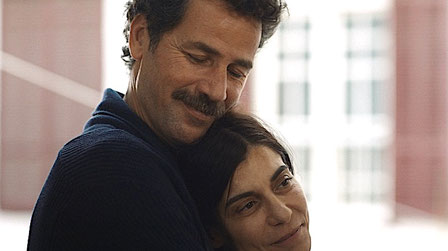 Married life: Bakri and Azabal
The unspoken speaks volumes in the languid drift of director Maryam Touzani's lyrical reflection on the generosity of love. There is no alternative when every sexual desire but the heteronormative is forbidden fruit, as it is in the cloistered Moroccan medina where husband-and-wife Mina and Halim (a soulful Azabal and Bakri) sell their sumptuous, hand-sewn caftans.
As a couple, they're a physical paradigm. She has the look of a plaintive madonna, he is sternly handsome. Their new apprentice, Youssef (Missioui), completes the idealised picture with his soft eyes and smooth skin, and whose allure is not lost on Halim. Complicating matters, rare bird Mina is unwell and Halim is behind with his exacting work, much to the displeasure of customers who sniff at the time and artistry he puts into it.
In the medina, time hangs dense and heavy. Glances and pauses are charged with a significance that turns interactions into questions. For Halim, who hides in the margins of secret bathhouse liaisons and a painful attraction to the silently receptive Youssef, survival lies in secrecy. Mina is his beloved companion, even if her companionship is not enough. But with her illness gaining ground, Halim's defences can no longer protect him.
There is a blue caftan in the midst of this upheaval, co-scripted by Touzani and her husband, Nabil Ayouch. Its filigree of golden embroidery is a crowning glory that Halim is struggling to finish while his wife wastes away and he and Youssef acknowledge their feelings for each other. In the end, it will be Mina, as frail as a twig yet stronger than them both, who is the glue that binds their lives, with a love at once unique to itself and universally transcendent.