THRILLER; 1hr 47min (French with subtitles)
STARRING: Jean Dujardin, Sandrine Kiberlain, Anaïs Demoustier, Lyna Khoudri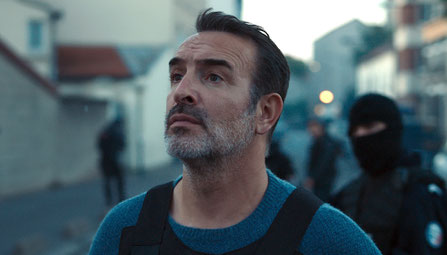 On November 13, 2015, synchronised ISIS attacks in Paris at the Stade de France, the Bataclan Theatre and assorted cafés and restaurants would leave hundreds dead and injured. The Stronghold writer-director Cédric Jimenez's reconstruction of the upshot of those events catapults into the night's chaos from the perspective of Paris anti-terrorism police who are scrambling for a grip on the incomprehensible, with cinematographer Nicolas Loir's camera darting like a fugitive on the run.
By the following day, when the extent of the damage has been established, this adrenalised jump-start has crystallised into something grimmer and more sustained. Those charged with maintaining security must now give chase to the fanatics responsible for sabotaging it, for whom remorse is a contradiction in terms.
Unsnarling the terrorists' collaborative tangle is a punishing task that leaves everyone responsible in tight-lipped mode for its duration (Dujardin, Kiberlain, Demoustier and Khoudri do most of the heavy lifting, although the going is heavy all over).
Casting its net through Paris, Belgium and Morocco through five gruelling days, the tonally unrelenting police race against the ticking clock of possible additional attacks culminates in a shocking ferocity that underscores the overall urgency while adding nothing but gunfire to it. In taking the pulse of a pointless war that no one is ever likely to win, Jimenez and his co-writer Oliver Demangel make no bones about the rigours of its soul-sapping cost. The actual souls involved, however, barely have time to breathe.