HORROR; 1hr 57min
STARRING: Alexander Skarsgård, Mia Goth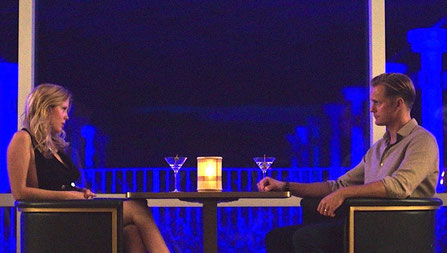 Night moves: Goth and Skarsgård
The literal pool in writer-director Brandon Cronenberg's descent into crazy town is visible in cinematographer Karim Hussain's opening images, tilted on its axis as the fictional resort in which it is set revolves through a slow rotation that presages the tumult to come. "Where are we?" resort guest James Foster (The Northman 's Skarsgård) asks his wife, Em (Cleopatra Coleman), at their waterfront breakfast. He has every reason to wonder. James is an author with six years between books — arguably a place nobody wants to be. Little does he know that the resort is about to become another one.
The fur begins to fly when James and Em pal up with minxy Gabi (Pearl 's Goth) and her hail-fellow husband, Alban (Jalil Lespert), agreeing to a sightseeing trip they shouldn't be taking since guests are not permitted to leave the compound. (Hmm…) Along the way, Gabi emerges as the darkest of horses, gifting James with a graphically shot handjob he never asked for, then insisting they all flee the scene after James, who is driving their borrowed car, hits and kills a local man. Little does James also know that this calamity is merely the first of his appalling problems.
As the son of horror-meister David Cronenberg (Crimes of the Future), not only does Brandon have bizarreness in his blood, he spills it with a surgeon's artistic precision. After James is held to account, the savagery of his punishment is twisted into a travesty by his ability, courtesy of his wealthy wife, to buy his way out of it. The resort, it transpires, is an anarchic exclusion zone, in which the licentious, homicidal rich pay for the pleasure of preying, via the luxury of cloning, upon anybody they please. A conflicted James goes along with the stagily angled free-for-all, although for a man up to his eyeballs in depravity he seems strangely subdued, as if the prospect of another orgy were about to reduce him to tears. He's a streak of misery all the way to the end and it's no stretch to see why: debauchery this bonkers takes inhuman dedication.