COMIC DRAMA, 2hr 22min (French with subtitles)
STARRING: Pierre Niney, Isabelle Adjani, François Cluzet, Marine Vacth, Emmanuelle Devos, Laura Morante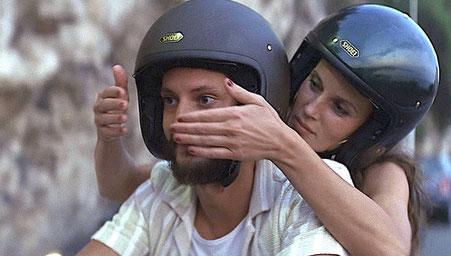 Sleazy riders: Niney and Vacth
The art of the con at its highest echelon is the gritty bedrock of writer-director Nicolas Bedos's cut-and-thrust, set with the sparkle and snap of a sapphire necklace on the French Riviera. Heading up the aptly starry cast, Niney is Adrian, a doe-eyed gigolo perpetually on the make. As Margot, Vacth is his lover and soul sister in the unscrupulous. The "sunny place for shady people" that is Somerset Maugham's Riviera, as quoted by Bedos (La Belle Époque) to set the ambiguous tone, is their prowling ground, its ageing habitués their prey.
Living large on rich people's dime fails to make either of them happy. Adrian is the resentful plaything of a grasping actress (Adjani as Martha), while haughty Margot has had enough of making nice for older men at whom she'd never otherwise look twice. Their mutual attraction pulls them together but it's their disaffection that keeps them there: each wants out of the mating game and the way they figure it, jaded to their bones, deception is their only exit. Entrez Simon (Cluzet), an oblivious, married realtor (with Devos as his undeserving wife), who, courtesy of Adrien, Margot and Margot's grudge-bearing mentor, Giulia (Morante), is about to invest in a scalding-hot property.
Since the consequences of this folly play out in cutaways to the proving ground of a courtroom in which a haggard Simon is on trial, it's safe to assume that whatever could have gone wrong with it, did. To share in the toxic games is to be complicit in the guilty thrill of cat and mouse, the moral of which is that having none is almost always ill-advised — except, of course, for those exceptions when it isn't.