HORROR; 1hr 43min (English and Italian with subtitles)
STARRING: Russell Crowe, Daniel Zovatto, Alex Essoe, Franco Nero, Laurel Marsden, Peter DeSouza-Feighoney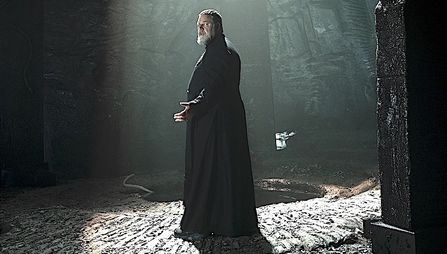 As the Vatican's chief exorcist from 1986 until his death in 2016 at age 91, Father Gabriele Amorth (Crowe) led one hell of a life, figuratively and literally. In the course of his terrifying duties, Father Amorth professed to have worked with tens of thousands of afflicted subjects. But when called to account by a priestly committee in Rome over one such encounter in director Julius Avery's lurid horror show, Crowe's straight-shooting, scooter-riding padre is emphatic that only 2 per cent of the tortured souls he deals with are truly possessed by evil.
Twelve-year-old Henry (DeSouza-Feighoney) is one of them. No sooner does his mother, Julia (a perpetually overwhelmed Essoe), move him and his teenage sister, Amy (Marsden), into a derelict Spanish abbey, which she is planning to renovate and sell, does Satan — who plainly has other ideas — take ownership of Henry's spindly body. Once installed, he wreaks havoc with a sick theatricality that instantly calls to mind William Friedkin's The Exorcist, although for those of us who've been this way before, its edge of shock and awe has been worn paper-thin.
That said, Crowe makes a fabulous Amorth, magisterial in his sustaining faith. Adapted from Amorth's memoirs, with Avery's direction set to sombre between freak fits, Henry's unholy torment would in reality reduce mere mortals to ectoplasm within minutes. Even the Pope (Nero) is thrown for a loop from a distance, while the young priest assisting at the abbey (Zovatto as Father Esquibel) is all over the map emotionally. Only Father Amorth is up for the mayhem: even in torment, he's a colossus amid the anarchy. Crowe doesn't physically resemble his subject, but God knows, he's with him in spirit.