ACTION; 2hr 49min
STARRING: Keanu Reeves, Donnie Yen, Bill Skarsgård, Laurence Fishburne, Ian McShane, Lance Reddick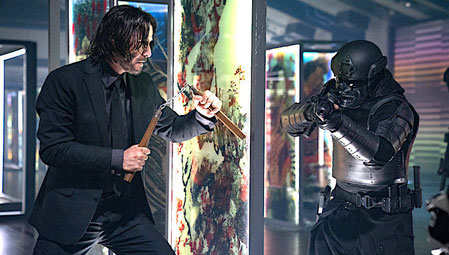 Comfortably nun: Reeves and deadly opponent
Revisiting the world of hitman Mr Wick (Reeves) after the four-year hiatus that followed 2019's John Wick: Chapter 3 — Parabellum is like touching base with an old buddy who you do not under any circumstances want to cross.
Back in the director's hot seat, Wick stalwart Chad Stahelski wastes no time getting this party from writers Michael Finch and Shay Hatten started with JW's ill-advised termination in Morocco of an ultra-powerful target (George Georgiou). Snippy High Table heavyweight the Marquis de Gramont (Skarsgård) is incensed by this foolhardy move, which doesn't bode well for either the iconic New York Continental Hotel (nooo! ), its manager Winston Scott (McShane) or its concierge Charon (Reddick, elegance incarnate to the end). That the marquis also has it in for Wick in the biggest way will surprise precisely no one.
From that unfortunate point, Wick 4 is a hyper-stylised, score-evening, kill-or-be-killed fest, its impossible action sequences dialled up to demented by cast members heavily invested in keeping their runway-ready cool in global settings — Paris, Osaka, Berlin — that reek of unhinged privilege.
Along with McShane, Laurence Fishburne's Bowery King is back for another chilled spin on the carousel, while Yen adds that certain je ne sais quoi as a blind hired gun — which has to be an impossibility anywhere but at this dizzying altitude. Needless to say, nobody is more at ease up there than the coolly suited John Wick himself. Whether dishing out intricately choreographed death blows or sucking up endless thumping punishments, his unshakable sangfroid is a hallmark state of mind.