HORROR; 1hr 42min
STARRING: Mia Goth, Tandi Wright, Matthew Sunderland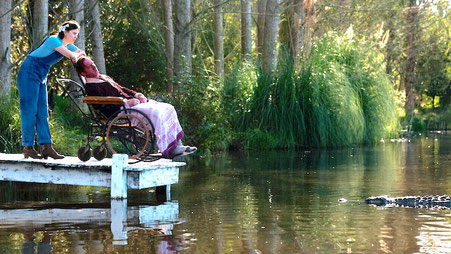 Meal on wheels: Goth, Sunderland and gator
Crowd-pleasing shrieker X raked the muck of a diseased psyche while cannily leaving ample space for the key question of how libidinous crone Pearl (played with evil relish by 29-year-old Goth, emoting under two tons of wrinkles) evolved into a screaming nympho. Writer-director Ti West, his co-writer Goth and their intrepid team go to town on the root cause of a horrible upbringing that sees young Pearl (Goth again) slaughtering a goose for her alligator pal, Theda, to demolish within the first five minutes.
The year is 1918 and the nubile Pearl, her profoundly disabled father (Sunderland) and her Nurse Ratched of a German mother (Wright) are eking out a stifling life on the Texas farm where the gruesome events of  2022's X will subsequently unfold. With her husband, Howard (Alistair Sewell), tucked away at war, the sexually hungry Pearl dreams of dancing her way to movie stardom, which is never going to happen if her killjoy mama has any say in it. But girls will be homicidal girls, and this eager beaver is just getting warmed up.
West and Goth bide their time with the rising heat, giving their anti-heroine space to marinate in a mounting frustration any X-phile can see coming from the unfortunate appearance of the deceased goose. Making the most of the worsening situation, Goth brings a spectrum of disturbance to Pearl's undoing: her repression, delusions, disappointment, bewilderment and self-castigating eruptions of rage are a textbook definition of torment. If the shiny coin of X is gleefully operatic in its OTT derangement, its multilayered exposition is the tarnished underside of insanity unchecked.