DRAMA; 2hr 10min
STARRING: Danielle Deadwyler, Jalyn Hall, Haley Bennett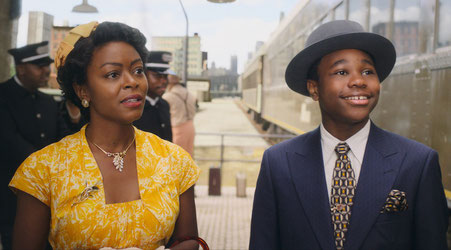 Final call: Deadwyler and Hall
As 14-year-old Emmett Till, a smiley Jalyn Hall is a kid to whom you instantly take a shine. Emmett is especially chock-full of beans when director Chinonye Chukwu's damning biographical drama begins because he is off to visit his cousins in Mississippi. His widowed mother, Chicago office worker Mamie (Deadwyler), from whom Emmett has never been apart, is manifestly less thrilled. "They have a different set of rules for Negroes down there," she cautions her son, urging him to take care when dealing with white people.
Not even Mamie could know how different those rules would be: the year is 1955, Jim Crow segregation is in full, shameful swing in the South and impish Emmett is about to cross paths with storekeeper Carolyn Bryant (Bennett), whose incriminating testimony of their innocent encounter will send him to an horrific lynching at the hands of her husband, Roy (Sean Michael Weber), and his half-brother, J.W. Miliam (Eric Whitten).
Chukwu's emphasis from here is on Mamie's stricken resolve that takes shape with her insistence that Emmett's disfigured body, retrieved from the Tallahatchie River in which it has been dumped, be returned to Chicago for the public to bear witness at an open-casket viewing. Fighting for her son, Deadwyler's Mamie is a lioness; her grief at the reality of his coffin erupts in a howl of despair, and her communion with his bloated corpse is so personal that to witness it feels like a violation of privacy. Her insistence on imprinting Emmett's story marks the birth of Mamie's evolution as a fighter for justice, initially at the travesty of his killers' trial and later as a crusading way of life. But it's as a mother redefined by her primal pain that Deadwyler takes immersive ownership of Mamie's inconceivable loss.