HORROR; 1hr 33min (Spanish with subtitles)
STARRING: Natalia Solián, Alfonso Dosal, Mayra Batalla, Mercedes Hernández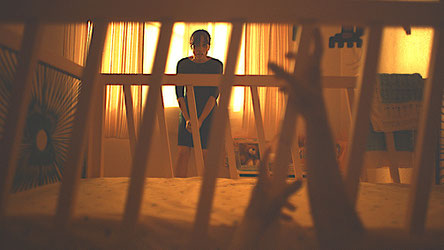 The cradle will rock: Solián
Mexico City carpenter Valeria (Solián) and her supportive husband, Raúl, couldn't be more stoked to discover that she is pregnant with their first child. Valeria's joy is short-lived, however, this being a creeping trip into self-torturing body horror from first-time feature director Michelle Garza Cervera.
With no appetite, Valeria begins losing weight. She witnesses — or does she? — the suicidal leap of a spookily disjointed neighbour. Her sleep is disturbed by nocturnal knocking, which the lore of horror dictates she feels compelled to investigate. Seeking solace, she visits a spiritual healer ("I cut, I cancel, I renounce, I cauterise"), who informs her that she has been cursed by a spider but that the webby spell is now lifted. If only.
Momentarily comforted, Valeria pushes on with her baby prep, building a crib and a mobile as whatever bone-crunching forces are afoot move with a stealth that she alone can see and hear, and to which Solián responds with tensile jolts of terror. Only Valeria's Aunt Isabel (Hernández), homey as a dumpling, is a fellow member of Team Occult, although leery of pushing its evil spirits too far. Complicating the infernal mess, Valeria reconnects with a former lover (Batalla as Octavia), whose offbeat independence further gives the lie to the so-called safe house of her marriage.
Yet when their baby girl is born, it is Raúl who is smitten. Valeria and her insinuating curse of pregnancy-induced depression have other dangerous ideas. The place to which she is prepared to go to break their horrific grip is a flesh-crawling road map into a conflicted mind.