DRAMA; 2hr 3min
STARRING: Hugh Jackman, Laura Dern, Vanessa Kirby, Zen McGrath, Anthony Hopkins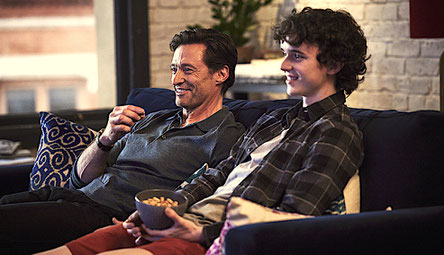 Grace note: from left, Jackman and McGrath
Florian Zeller, the French playwright and film-maker behind the force field of 2020's The Father, turns his rapier sights on that film's confronting companion piece in his and co-writer Christopher Hampton's critically divisive adaptation of Zeller's 2018 stage play Le Fils.
Jackman and Dern are divorced couple Peter and Kate Miller, McGrath is their 17-year-old son, Nicholas, and Kirby is Peter's new partner, Beth, with whom he has a baby boy. When Nicholas, who is depressed and self-destructive, moves in with Peter and Beth, the dynamic is predictably far from ideal. Peter, a New York lawyer, has a full slate, work-wise, Beth is justifiably wary, and Nicholas is an intrusive, unreadable book.
Still, there are flashes of promise at first. Nicholas is in therapy and has started at a new school, while Peter is buoyed by a take-charge determination not to mirror the coldness of his own father (Hopkins, stamping his mark on his one, blistering scene), whose reaction to the hurt his emotional neglect has caused is for Peter to "Just fucking get over it."
Flashes, however, are all those early indications will amount to. Lost to his pain, Nicholas is a fulcrum, engulfing everyone around him. Lit in muddy tones that mirror this punishing inner life by cinematographer Ben Smithard, the sets are uniformly gloomy, the atmosphere heavy with the threat of what could happen. The actors bring an A-game of abundant compassion to the Millers' urgent battle for transcendence. But there are no rosy fade-outs when love its its own worst enemy.