HORROR; 1hr 40min
STARRING: Dave Bautista, Jonathan Groff, Ben Aldridge, Nikki Amuka-Bird, Abby Quinn, Kristen Cui, Rupert Grint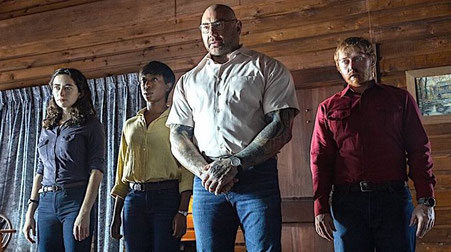 Gang of four: from left, Quinn, Amuka-Bird, Bautista and Grint
From the second Bautista's mountain of tattooed muscle fills the screen in The Sixth Sense director M. Night Shyamalan's latest celebration of the strange, he's a different kettle of menace entirely from his stroppy, shirtless turn as Guardians of the Galaxy 's Drax the Destroyer. Bautista's scholarly specs and earnest containment are a paradox that tilts to the creepy when, as schoolteacher and doomsday spruiker Leonard, he starts in on an apocalyptic spiel.
Adapted from Paul G. Tremblay's 2018 novel The Cabin at the End of the World, the set-up of the screenplay — co-written by Shyamalan with Steve Desmond and Michael Sherman — is deadly simple: Eric (Groff), Andrew (Aldridge) and their seven-year-old daughter, Wen (Cui), are enjoying a peaceful break in a secluded cabin when they are rudely interrupted by the arrival of Leonard and his three vision-driven and seemingly deranged associates. Terrible choices ensue.
Leonard, nurse Sabrina (Amuka-Bird), line cook Ariadne (Quinn) and gas company worker Redmond (Grint, veering wildly from his Ron Weasley lane) believe the end of the world is at hand and that only the death of either Eric, Andrew or Wen will prevent it. Whether psychic prophets, religiously unhinged or walking emblems of hate, the interlopers mean business, prepared to sacrifice their own lives if their captives refuse to play ball. The question, then, is to what horrific lengths each person in the tastefully appointed retreat is prepared to go.
Clocking in at under two hours, this is a lickety-split, flashback-spliced sprint with fever-pitched performances and a galloping sense of dread. Only Leonard holds true to his gravitas. Steadfast with purpose for the volcanic duration, he's a colossus of sorrow in a firestorm of suspicion and doubt.