DRAMA; 1hr 57min
STARRING: Brendan Fraser, Sadie Sink, Hong Chau, Ty Simpkins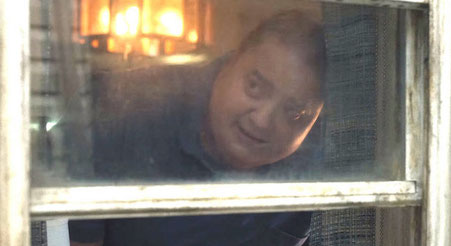 Brendan Fraser in a fat suit is a shock to the senses. The Mummy star wore up to 300 lb (136kg) of prosthetics to inhabit the misery of morbidly obese English teacher Charlie, whose imprisonment of flesh is a death sentence. "If you don't get to the hospital, you will die," his only apparent friend, Liz (The Menu 's Chau), a nurse who knows of what she speaks, half begs, half berates him.
Charlie isn't going anywhere. Lumbering painfully on a walker around the dim womb of his Idaho apartment, with his blood pressure towering at 238 over 134, the outside world no longer fully exists for him. Since he couldn't access it even if he wanted to, his chief point of contact is the classes he gives online with his camera switched off and his soothing voice the sole evidence of his existence.
Charlie has no initial interest in revealing himself to his students — or in the prospect of heavenly salvation, for that matter — despite the best efforts of missionary Thomas (Simpkins). Still, he yearns to reconcile with his hostile daughter (Sink, a tsunami of wounded fury), whom he abandoned years ago in the pursuit of a life with a male lover who subsequently died. And despite the torment he carries, he never ceases to care about everyone he encounters.
Set over five grinding days, the focus of Samuel D. Hunter's screenplay of his 2012 stage play is relentlessly telescoped into a distillation of humanity, its churn of recriminations and regret an instruction manual of suffering. Requiem for a Dream director Darren Aronofsky's own preferred home turf is the psychological outer limits of cinema — no matter how harrowing the watch — and in Fraser he has the consummate co-explorer. Charlie is brokenness laid bare.