DRAMA; 2hr 38min
STARRING: Cate Blanchett, Noémi Merlant, Nina Hoss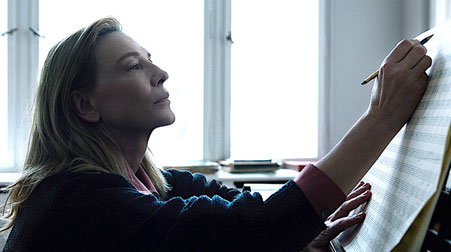 Conductor Lydia Tár (Blanchett) has a humdinger CV. The pianist and composer is a Phi Beta Kappa Harvard graduate with a PhD in musicology from the University of Vienna. An EGOT (Emmy, Grammy, Oscar and Tony) award winner, she has wielded her baton with orchestras in Cleveland, Philadelphia, Chicago, Boston and New York and is currently the principal conductor for the Berlin Philharmonic — the first woman to take up that esteemed post. With her book, Tár on Tár, about to be published and orchestral rehearsals for Mahler's Fifth Symphony kicking off momentarily, she has crested the summit of an Everest career.
Onstage for a New Yorker interview, Lydia is attractive, beat-perfect and thrumming with alertness. At first meeting, hers is a mind you wish you could inhabit — although preferably at a respectful distance, the maestro being scary-bright with the polish of a show pony. When that sheen of self-possession begins to fade, it's with hints of tarnish here and there, painstakingly scraped back to bedrock by writer-director Todd Field (In the Bedroom, Little Children ).
Lydia is helping herself to the anxiety medication of her concertmaster wife, Sharon (Hoss). A masterclass at the Juilliard School turns sour. Her dedicated assistant Francesca (Merlant) is being pressured by a desperate woman and fellow musician with whom an over-it Lydia formerly had a relationship. In the interim, as Lydia goes about the esoteric business of being a human phenom, her cool assurance and the scope of her extracurricular activities grow progressively repellent.
Speaking truth to power should be an inalienable right, although of course it so often is not when an imbalance feels impossible to address — and in this disconcerting case, when the abuser is a slyly entitled woman of global superstar status. Lydia Tár is a fictional character but the contempt that underlines her exploitative actions, honed to deep-etched relief by a peerless Blanchett, is a timeworn reality. Until the dominoes tumble, Tár is as elegantly composed as the woman herself, its camouflage of wealth and beauty a jolting contradiction of the ugliness at work beneath the surface.