HORROR; 1hr 42min
STARRING: Allison Williams, Violet McGraw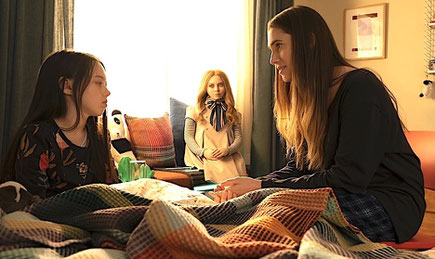 Mad robot: from left, McGraw, Megan and Williams
M3GAN (aka Megan, full name Model 3 Generative Android) is virtually living proof that groundbreaking robotic dolls are also apt to break heads.
In the sneaky tradition of epic disasters everywhere, the pretty robot seems heaven-sent when creator Gemma (Get Out 's Williams) and her team come up with it-slash-her. Landed with the custody of her orphaned nine-year-old niece, Cady (McGraw, who has also spent time in the horror-verse with The Haunting of Hill House), Gemma — so assured with animatronic toys — is at a total loss. Enter her android prototype (embodied by Amie Donald and sweetly voiced by Jenna Davis). Whip-smart, silicone-skinned and pellucid-eyed, Megan is purpose-built as a primary companion (and a nifty piece of work behind the scenes, as well, courtesy of Adrien Morot's genius animatronics).
"Megan, your goal is to protect Cady from harm, both physical and emotional," Gemma instructs her demure new house guest. All the best with that in a screenplay written by Malignant 's Akela Cooper, co-produced by James Wan (Saw, Insidious, The Conjuring…) and Blumhouse Productions' Jason Blum and up to its wazoo in wacky Chucky and Annabelle vibes.
Director Gerard Johnstone (Housebound ) and his cast play the strange situation without a trace of camp, which is just as well since when the doll gets going, her homicidal derangement is camp enough for everyone. You could argue that Cooper, Johnstone and Co raise pertinent questions about the insidious, ahem, reach of technology and the culpability of its engineers as fallible gods in their potentially unknowable machines. But you'll probably be having far too much fun.