DRAMA; 2hr 10min
STARRING: Emma Mackey, Fionn Whitehead, Oliver Jackson-Cohen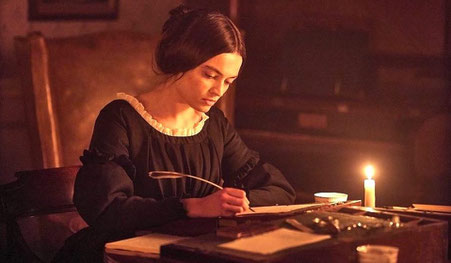 Who'd be a woman in 19th-century England, especially one born as ahead of her time such as author Emily Brontë (Sex Education 's Mackey)? In an era when ladies are bonneted, corseted and customarily repressed, the Emily of actress turned writer-director Frances O'Connor's vitalised debut is a fiery square peg in a series of modest frocks.
Riffing on the facts, O'Connor bequeaths Emily a love affair with handsome curate William Weightman (Jackson-Cohen) that will inspire her 1847 novel, Wuthering Heights. History doesn't support this lustful take, as tempting as it is to run with, for even in O'Connor's racier scheme of things, Emily's day-to-day existence with her kindred-soul brother, Branwell (Whitehead), her canny sisters Charlotte and Anne (Alexandra Dowling and Amelia Gething) and their censorious bore of a widower father,(Adrian Dunbar as the Reverend Patrick), is as dampening as the milky Yorkshire skies.
After boozing prankster Branwell is banished for going too far, Emily and William turn up the clandestine heat — a sensual treat for cinematographer Nanu Segal and a brief reprieve from the glums. But when William comes down with curate's cold feet and he and Branwell subsequently die (this is the 19th-century, after all), the heartbreak of Emily's dual loss takes a tormented literary shape that it's safe to predict will outlive any suggestive reimagining of its origins.
In the end, the perennial question that Emily unwittingly raises — of how a sheltered gentlewoman in an illiberal, limiting age willed the anguished passion of Cathy and Heathcliff into being — is also the one it has no interest in answering, leaving its reimagined heroine with the final, dismissive say. "I've always been beyond your comprehension," she informs her sister Charlotte in the French that her curate lover supposedly helped to teach her, "and I always will be."