COMIC DRAMA; 2hr 27min
STARRING: Harris Dickinson, Charlbi Dean Kriek, Woody Harrelson, Dolly De Leon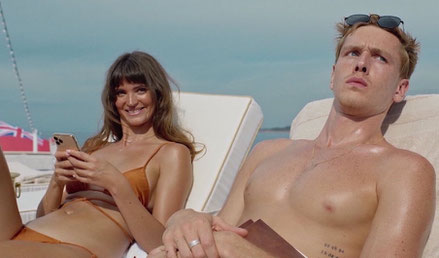 Bad influencer: Kriek and Dickinson
In the fashion-speak of writer-director Ruben Östlund's lunatic fringe, a triangle of sadness is the potentially frowny area between a person's eyebrows, which model Carl (Dickinson) is ordered to "relax" at an introductory casting. Good to know! It's also handy to note going in that Östlund, who targeted pretension to withering effect in 2017's The Square, now features Woody Harrelson as the captain of the luxury yacht on which a chunk of this Palme d'Or–winning crack-up takes place, and which any moviegoer could guess is bound to spell OTT trouble at sea.
Before boarding, Carl has other hurdles to clear, the first being who pays for dinner with his influencer girlfriend, Yaya (Kriek).That excruciating squabble sorted, he and Yaya are in their sulkily entitled element on the ritzy cruiser, which Yaya is spruiking on social media in exchange for their invite. Their fellow passengers span a cashed-up spectrum of questionable worth: self-described "king of shit" Dimitry (Zlatko Buric) made his fortune in fertiliser; Jarmo (Henrik Dorson) is a lone-wolf tech mogul; elderly cut-glass couple Clementine and Winston (Amanda Walker and Oliver Ford Davies) were in the hand-grenade business, and so on. It falls to the can-do crew, under the stewardship of perfectionist Paula (Vicki Berlin), to enable their every crackbrained impulse while the plainly deranged Captain Thomas Smith (yep!) hits the bottle in his cabin.
But fun in the sun is only the appetiser on the SS Östlund. A storm is brewing that will see a delicately composed dinner descend into vomitous chaos, observed by the director with such forensic glee that it's a relief when pirates step in, leaving a gaggle of survivors to duke it out on a convenient island. Landlocked, the balance of power is dramatically reversed as lowly cleaning lady Abigail (De Leon) proves the only one with a clue on how to cope.
In a less scathing narrative, the noble cleaner would emerge as the heroine of the hour, which it's safe to say was never on the horizon here. The passengers are insufferable from the start but Abigail is no cut above, revealing herself quick-smart as a petty despot and a man stealer — not that any of these men are worth taking. Trust an Östlund shipwreck to bring out the worst in everyone.