THRILLER; 1hr 44min
STARRING: Rebecca Hall, Tim Roth, Grace Kaufman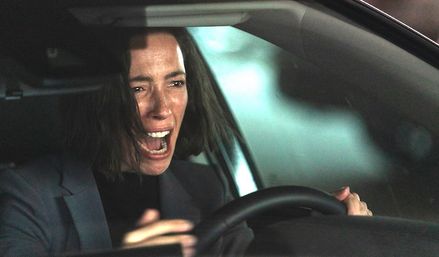 Margaret (Vicky Cristina Barcelona 's Hall) is a professional woman and single mother (to Kaufman's 17-year-old Abbie) whose every gesture telegraphs precision. Even extra-curricular sex is scheduled. But precision has its performative limits. Margaret's secret history is one external force that her crisp British grip is unable to control; specifically, the re-emergence after 22 years of her ex-lover David (The Hateful Eight 's Roth). A sidelong glimpse of him at a conference in her adopted home city of Albany, New York, is enough to send Margaret into a blind panic, for herself and for her daughter.
Whatever this guy has done to her — and there'll be more on that in a chilling soliloquy from Hall — has savaged Margaret's DNA. After a second, seemingly harmless sighting, her cool veneer begins to splinter, much to the dismay of the in-the-dark Abbie. When Margaret approaches David to warn him off, his response is ambiguous: after blandly professing not to know who she is, he flashes her the creepiest, toothiest Rothian smile this side of a crocodile attack. With the police next to useless (after all, David has done nothing), Margaret takes matters into her own manic hands, only to discover that not only has the predator she vividly remembers not changed a single spot but she is completely alone with her fixation, isolation being the meat-and-marrow of every emotional collapse.
With a tormentor's unerring instinct, David understands that the most potent weapon in his warped arsenal is Margaret herself. Hall, too, is acutely aware of that fact. Her Margaret is a lit fuse, fearsome and terrified with a baseline of pitiful. Even accounting for the insidious power of a tragic loss, her descent plays more like a swan dive than a psychologically shaded disintegration from writer-director Andrew Semans. But a blazing performance can burn through a score of cracks. Hall wears unhinged heartbreak like a second layer of skin.