COMEDY; 1hr 46min
STARRING: Ralph Fiennes, Anya Taylor-Joy, Nicholas Hoult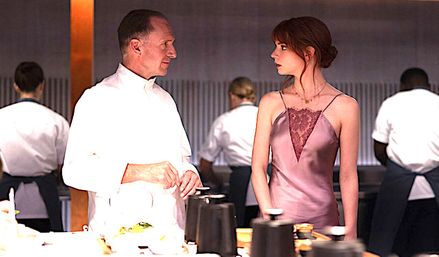 Hoot cuisine: Fiennes and Taylor-Joy
The first sighting of Ralph Fiennes as executive chef Julian Slowik in the designer madhouse that is director Mark Mylod's The Menu doesn't bode well for the dinner to come. Chef Julian is as rigid as an ice pick, with eyes that pierce and chill. Hawthorne, his island temple of molecular gastronomy, is sleekly modern, lapped by sea and run with the precision of an army barracks by Chef and his unruffled maître d', Elsa (Hong Chau). Emphasising Hawthorne's elevated tone, Chef's instruction to his eager guests — that their convoluted, multi-course meal is to be tasted and savoured, as opposed to merely eaten — is the opening salvo in a liberal sprinkling of mini lectures that would be insufferable if the man himself weren't so damned freaky.
The elite diners (Janet McTeer, John Leguizamo and Judith Light among them) are a smorgasbord of entitlement that erupts into shock-horror as the evening devolves into calculated mayhem. Chef, they're fated to learn, has an axe to grind in more ways than one: with the sole exception of the oblique Margot (Taylor-Joy), an unexpected replacement companion for the oddly unmoved Tyler (Hoult), every person in the artful space is a calibrated target.
Since the filthy rich are seldom deserving of sympathy, the degeneration of their five-star culinary experience into a bespoke Lord of the Flies is a dish to relish. Fiennes's demented foodie sinks his fangs into every bite of Seth Reiss and Will Tracy's trenchant screenplay, directed with practised restraint by Mylod (no stranger to wicked excess after his work on the TV series Succession). The crazier the concept, the cooler his grip.